What is residential roofing?
Residential Roofing
Updating your existing roofing will not only add to your home's curb appeal, but it can also help add to the value of your home. When it's time to re-roof your home, there are several materials that you have to choose from. It can be easy to get overwhelmed with all of the choices that are available on the market. Each roofing material comes with its own set of advantages and disadvantages when it comes to longevity, affordability, and visual appeal. Ideally, you want to find a material that offers a nice balance of the three.
To help you get started with your research here have highlighted several popular residential roofing choices to help you determine which material is the best fit for your home.
Wood Roofing
For generations, wood shingles were the roofing material of choice for homeowners. Today, many people still fin the look of wood shingle to be appealing. Even as they weather, wood shingles can add a unique element of character to your home.
Homeowners that live in areas that are prone to wildfires may think that wood shingles are out of the questions for them. However, there are many fire-rated wood shingles available on the market. These shingles are treated with a special fire-resistant coating that will protect your home in the event that your roof comes in contact with any embers. Even with these extra safety measures, there are some municipalities that have outlawed wood singles completely. You will want to check your city ordinances to make sure that wood shingles are allowed in your neighborhood.
Wood shingles come in a variety of colors including pine, cedar, and redwood. If maintained properly, you can expect your wood roof to last upwards of twenty-five years.
Asphalt Shingles
This is the most common choice for residential roofing in the area. Asphalt shingles tend to be popular among homeowner and roofing contractors alike because they are easy to install as well as very economical. Asphalt shingles are typically reinforced with an organic material such as cellulose, which does not affect the aesthetic appearance of the material.
Asphalt shingles are available in a variety of colors, which makes it easy for a homeowner to match the material to their exterior paint. If there is any downside to selecting asphalt shingles for your roof, it is that they do not last as long as other, more expensive materials. Additionally, they don't provide much in the way of insulation, which should be taken into consideration if live in an area that experiences extreme temperatures.
Overall though, Asphalt shingles can work very well for most modern homes. While they may not be as durable as some other materials, you can expect them to last upwards of 20-25 years if you maintain your roof properly.
Synthetic Roofing
Synthetic roofing products, although more common on a commercial roof, are quickly growing in popularity among homeowners. These products may include polymer roofing, rubber, or plastic. They come in a variety of colors and textures to fit your home's aesthetic. There are even synthetic roofing products that are made to look like natural materials like slate or wood.
The major benefit of choosing a synthetic material for your roof is the durability. Synthetic products are easy to maintain, resist wear, and are typically fire-resistant. The major drawback to a synthetic roof is that it's difficult to say just how long it will last or how often you will require a roof repair. Because these materials are still so new, we really don't have a clear understanding of how they will stand up in the longer run. However, that should not be a major deterrent for homeowners as you have the option to choose a roof that will be warrantied for up to fifty years, giving you some peace of mind.
Metal Tiles
Metal roofing materials come from a variety of elements and their compounds – zinc, steel, aluminum, tin, and some other alloys – which makes it a versatile roofing choice. As with all other roofing materials, metal has its benefits and disadvantages.
For starters, it is very durable and resistant to most of the natural threats – rain, snow, fire, mold, mildew, and insect infestation. Metal is also and an excellent heat conductor, which means you will be able to save money on air-conditioning if you choose to install a metal roof. The installation of metal roofing systems is an easy, fast, and inexpensive process.
Their price is one of the reasons people don't choose metal roofing. Since the material is strong and durable, and the roof will last even up to half a century with proper maintenance, its cost is expected to be bigger. If the material is too pliable (such as aluminum), even the slightest collision will create dents, which will require repairs. Also, the noise rain makes when hitting a metal roof could mean nothing to some people, and to others, it could turn out to be a big nuisance.
Slate and Clay Tiles
Being one of the most durable and long-living residential roofing material there is, tiles are becoming more and more popular among homeowners who wish to protect their houses in the best way possible.
Slate and clay are natural materials, which means they are completely recyclable and offer excellent protection against natural elements and weather. Not only that – they provide the house with a unique rural look that will boost your house's curb appeal and, consequently, increase its value on the market.
There is a small setback to this seemingly perfect story – their weight, this article argues. Asphalt and metal generally do not require any additional supporting since they are relatively lightweight. Slate and clay, however, can be installed only on houses with a sturdy, powerful structure. Another thing that you should keep in mind is the high price of the material and installation, which will require professional and skillful roofers.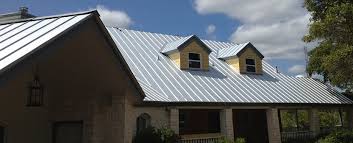 Ceramic roofing tiles
If you are looking for a lot of character in your home, ceramic roof tiles might be the way to go and they are generally durable. Tiles are resistant to fading and are fireproof. Quality tiles should last 50 to 70 years.
In the US, tile roofs are most commonly seen on homes that borrow elements from Spanish architecture. The tiles hang in parallel rows, overlapping to keep out rainwater. Disadvantages to ceramic roofing tiles include their unsuitability for climates with fluctuating weather. Ceramic tiles are prone to erosion under these conditions. While the tiles are durable, they are also fragile. High winds can damage them, as will walking on the tiles.
Find the right roof type for your home based on design, function, and price
Now that you've got a feel for the different kinds of roofing available to you, you can start to narrow down your choices. At this stage, you should consult with a professional roofing contractor.
In addition to providing long-lasting residential roofing services, an experienced residential roofing contractor will help you identify which of these five types of roofing are best for you based upon three factors: design, function, and price.
Design
Quality roofing can add resale value to your home and add to its curb appeal. Beautiful terra cotta tile roofing can fit one home's aesthetic, while the rustic charm of cedar shakes might fit another's. Or perhaps slate roofing is more of your style. Whatever your tastes, a roofing contractor will be able to walk you through choices that satisfy them.
Function
Roofing, of course, is supposed to protect your home from the sun, rain, and temperature. Good roofing performs, even in high wind areas, with the highest temperature variance like St. Louis. There are framing, underlayment, and installation techniques to help a roofing system perform in even the harshest environmental conditions.
Price
Roofs are typically measured—and priced—in roofing squares, which are about 100 square feet. Metal roofing and asphalt shingles are among the most reasonably priced by roofing squares. You might, however, get a longer run out of a slate or tile roof, which can last for hundreds of years. A roofing contractor will be able to point you toward the right roofing material for your price point.